Golf Outing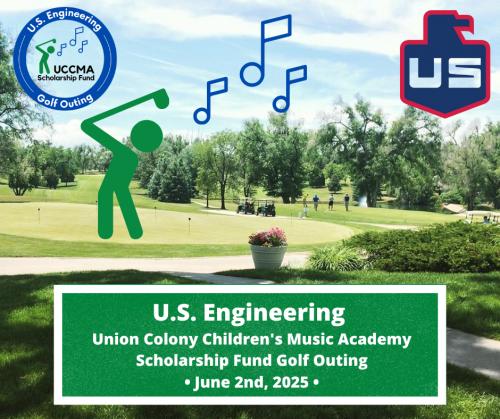 Join Us for UCCMA's 13th Annual Scholarship Fund Golf Outing- The U.S. Engineering Union Colony Children's Music Academy Scholarship Fund Golf Outing
August 28th, 2023

Support Our Programs
Support our mission of music and movement for all by donating today!
The mission of Union Colony Children's Music Academy, a 501©(3) organization, is to provide an opportunity for all children, birth to 12 years in age and their families, to experience the benefits and joys of music and movement. Our scholarship fund provides classes for children with special needs, teen mothers and their babies, and children who would otherwise not be able to participate. Help us fulfill this mission. Reserve your spot today!

In addition to the promotional opportunities stated, and the fulfillment of supporting the children and families of this program, sponsors of the 2023 UCCMA Scholarship Fund Golf Outing will be recognized on the UCCMA website, the UCCMA facebook and Instagram pages with over 1000 followers, and to our large student and family community in both newsletters and in school postings.